Die Freiwassertauchgänge liefen schon etwas besser – die Tarierung wird langsam besser – aber es wird noch lange Zeit dauern den OC Stand wieder zu erreichen.
Nach den Tauchgängen war es an der Zeit den Kalk zu tauschen. White to Violet – Ich dachte nur der Kalk verändert die Farbe. Das er mir auch den Behälter verfärbt wußte ich nicht.
Morgen folgen die Tauchgänge vier und fünf im Uthleder See…….wann werden wir die Ausbildung beenden?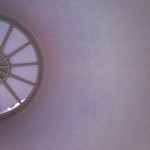 Open water dive three and four or better lake dive 3+4. Buoyancy control works a little bit better but it will be take a long time to reach OC level.
White to Violet – I thought that only the soda lime (chalk) would change the color. Now the scrubber becomes violet colored….hui.
Tomorrow I will have training dive four and five – open water. When do I finish the course?